"George Will Fix It" specialises in support for Home Users and Home Networks.

Our services are based on the understanding that people do not want to take a day off to wait for an engineer so that he can resolve their problems. It is enough that they have a problem, so why should they suffer even more wasting a good day Off work to resolve it.

"George Will Fix It" will come to you at home in the evenings or the weekends, sometimes even on a Bank Holiday.



When you contact us by Email, an engineer will call you back within 24 hours, so please provide a contact number with your problem description.

You can WhatsApp us on "077 950 789 10" or SMS us...
Someone will call you back when it's convenient.

You can also reach us via Facebook at the following link:
https://www.facebook.com/GeorgeWillFixIt

Please remember our working hours are Evenings and Weekends, if you contact us during the day, please allow us some time to come back to you.
To contact us via the web (Response is within 12 hours), please use the form below:
We Log Every IP Address That Uses The Form To Track & Report Spammers.
Thank you for your understanding and custom...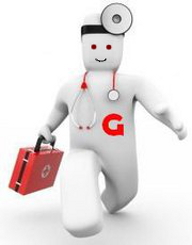 Contacting Us

- By Phone
- On Facebook
- By Web Form
- Via Email
- Chat With Us